In this edition, I'm excited to share news from our recent product announcement, and where you can find us this fall as we hit the road for several events.
---
No GPUs required with NuPIC – the Numenta Platform for Intelligent Computing
It has been an exciting few weeks at Numenta, as we recently announced our commercial AI Platform, NuPIC – the Numenta Platform for Intelligent Computing.  NuPIC draws on our decades of neuroscience research to simplify deployment of LLMs on CPUs, while achieving 2X-10X price/performance over GPUs.
Our CEO Subutai Ahmad officially announced NuPIC at the Efficient Generative AI Summit keynote in Santa Clara, CA. "With our optimized inference server, model library, and training module, you can select the right models for your unique business needs, fine-tune them on your data, and run them at extremely high throughput and low latency on CPUs, significantly faster than on an NVIDIA A100 GPU— all with utmost security and privacy," Subutai explained.
We're working with several companies today that want the speed, simplicity, and security NuPIC offers for LLM deployment. If you're interested in seeing whether NuPIC is a fit for your business, contact sales@numenta.com or request a demo.
To learn more about NuPIC and read the latest NuPIC coverage, check out the following resources:
---
Numenta in NYC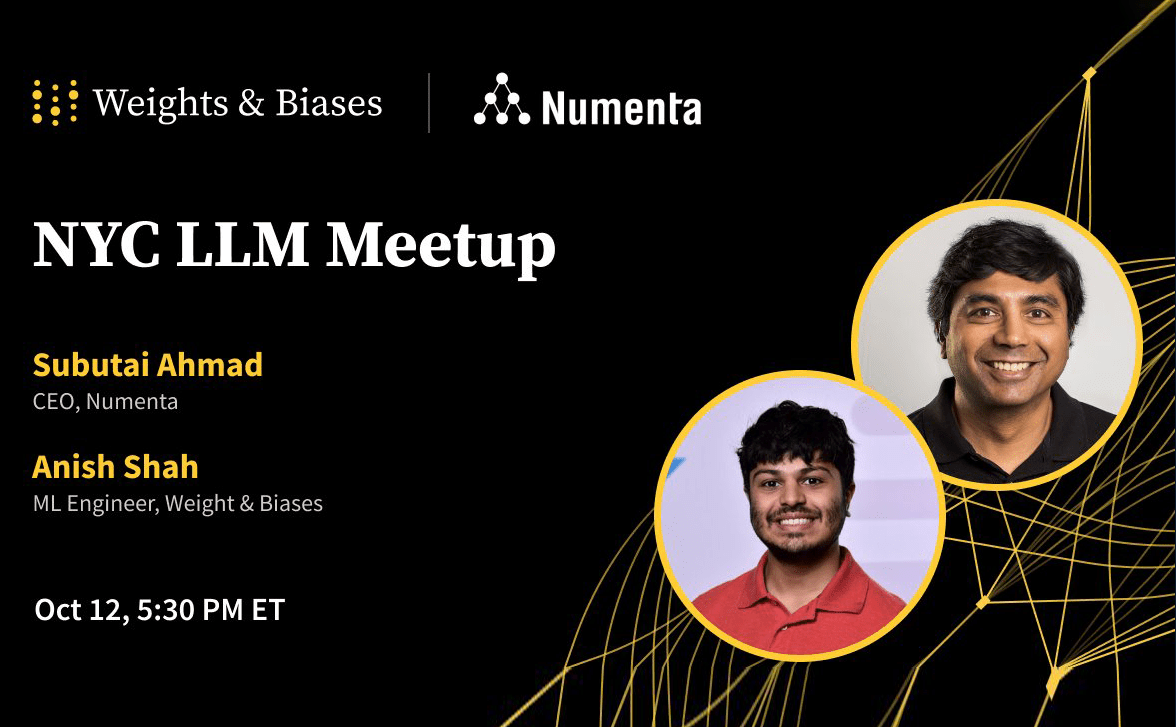 Next week, we'll head to the East Coast for a long-awaited trip to New York City. If you're in the tri-state area, please join us for food and drinks, networking, and live presentations Thursday October 12, at a special event hosted by Weights & Biases. The evening will focus on how Weights & Biases and Numenta are making LLM deployments easier. Subutai will give a talk on the challenges companies are facing with Generative AI and how we're translating our neuroscience discoveries into an AI platform designed to address these challenges. He'll also talk about how we're working with Weights & Biases to enable enterprises to deploy and scale powerful LLMs at ease in an extremely cost-effective manner.
---
More Fall Events
In addition to the New York meetup, we have events lined up in the Bay Area as well.
Tuesday October 24, 5.30-8.30pm Shack 15, San Francisco
On October 24, Subutai will speak at an event hosted by AI Adoption Accelerator Tryolabs called AI in Action: Journeys to Impact. The event features presentations from Tryolabs, Numenta, The RealReal and Stitch Fix, all sharing their experiences of putting AI into action, offering attendees practical insights they can apply to their own AI initiatives. Spots are limited, so register for yours today.
November 8, 12.30pm, SystemX Alliance, Stanford University
On November 8, our co-founder Jeff Hawkins will speak at the SystemX Alliance Annual Fall Conference at Stanford University. The SystemX Alliance is "a collaboration between Stanford University and member industrial firms to produce world-class research and Ph.D. graduates with a view to enabling truly ubiquitous sensing, computing and communication with embedded intelligence." The event will cover areas of research in Electrical Engineering, AI, Robotics, and Intelligence at the edge. Jeff will give a plenary talk on how the brain differs from the current machine learning approach, and how we can leverage the learnings he outlined in his book A Thousand Brains.
---
Thank you for your continued interest in Numenta. Follow us on LinkedIn to make sure you don't miss any updates.
Christy Maver
VP of Marketing