In this edition, I'm excited to share upcoming live events on ChatGPT and NeuroAI, a joint technical blog with Intel on our performance results for a popular NLP use case, and a new peer-reviewed paper co-written by our co-founder Jeff Hawkins.
---
To Chat(GPT) or not to Chat: a LinkedIn Live discussion with Numenta VP ML Lawrence Spracklen April 19, 2023 10am PDT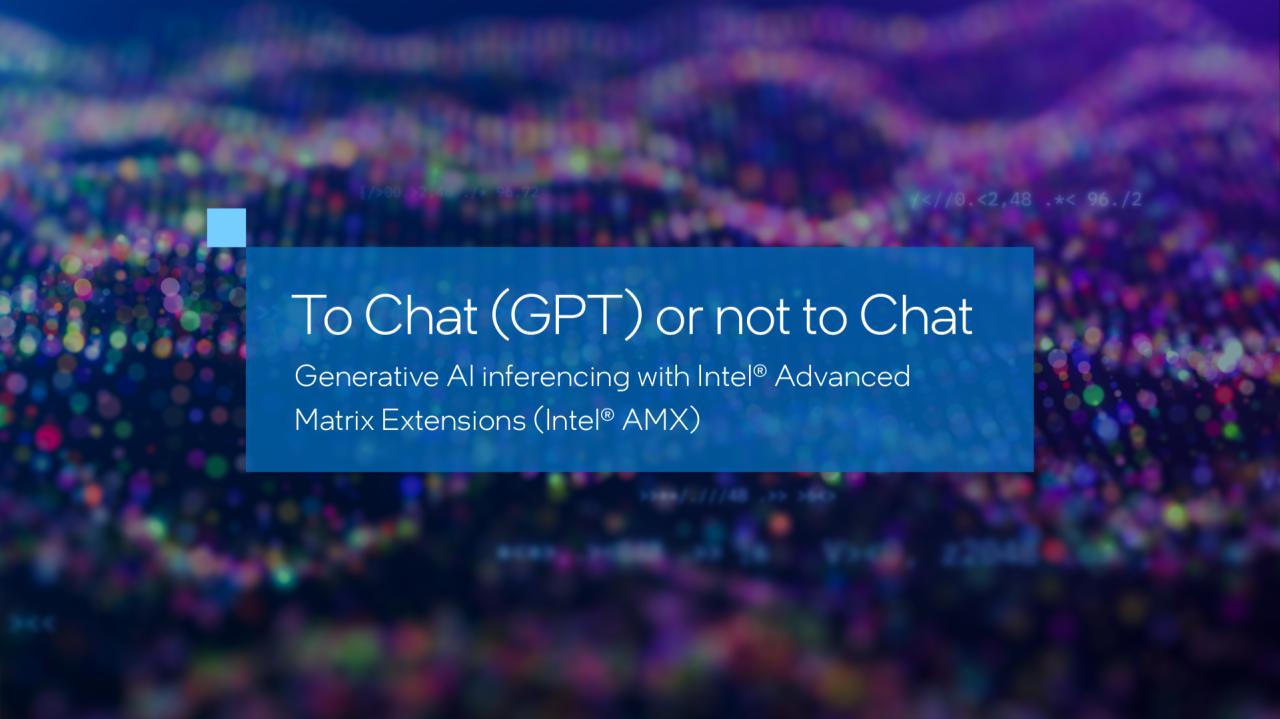 In such a short time, ChatGPT has come to dominate AI headlines – and for good reason. With its impressive ability to mimic human response while answering nearly any question, ChatGPT has shown the world the power of large language models (LLMS) and prompted companies to use them in a wide variety of applications. But figuring out how to bring these LLMs in-house brings significant cost and compute challenges that leave many people stuck. Can these challenges be overcome? What are the options? How can companies navigate this rapidly moving landscape and benefit from GPT-scale models today?
Our VP of Machine Learning Lawrence Spracklen, Ph.D., will address these questions and more in an upcoming LinkedIn Live discussion hosted by Intel. Lawrence will discuss the landscape of large language models, the pros and cons of ChatGPT for the enterprise, and key considerations for building your own, customized GPT models. He'll also discuss how Numenta is working with Intel to accelerate LLM inference on 4th Gen Intel® Xeon® Scalable Processors, and he'll share some performance results Numenta is getting for GPT models. Mark your calendars and join us April 19, 10am PDT.
---
ChatGPT & Brain-Based AI – an evening with Jeff Hawkins and Subutai Ahmad, hosted by 4-Good Venture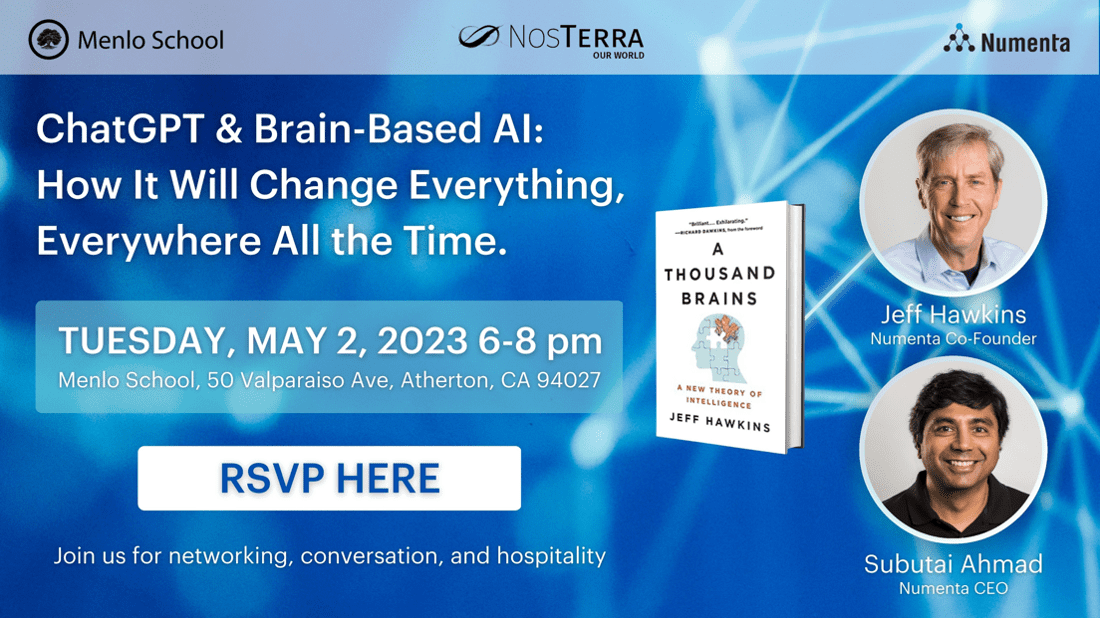 If you're in the Bay Area, join us in Menlo Park on May 2 at 6pm for a conversation with our Co-founder Jeff Hawkins and CEO Subutai Ahmad on ChatGPT and Brain-Based AI. Hosted by 4-good ventures, Jeff will answer questions about his book, A Thousand Brains, and Subutai will talk about how we're incorporating the ideas in the book today. They'll cover everything from how ChatGPT is changing the AI landscape to how neuroscience will shape the future of AI. Reserve your spot at the link below to join us live. The event will be recorded for those who are unable to attend in person.
---
New Blog from Numenta + Intel: 20x Inference Acceleration for Large Document Processing
Earlier this year, we announced ground-breaking performance gains for BERT-Large inference on Intel's 4th Generation Xeon launch (codenamed Sapphire Rapids). This month we published a joint technical blog on the latest in our continuing collaboration. This blog dives deeper into the use case of inference for long sequence lengths of 512.
In NLP, long sequence length tasks involve processing lengthy strings of text inputs from documents for applications such as question answering or language translation. These longer sequences often run into bandwidth limitations, but as this post details, Numenta gets a 20x throughput speed-up when running on the Intel Xeon CPU Max Series processor, where high bandwidth memory is located on the processor itself, compared to AMD Milan.
The post walks through the components of the solution and explains why Numenta and Intel are synergistically compatible, before highlighting the performance results.
---
Ready to take your NLP offerings to the next level? Join our Private Beta Program
The world of AI and NLP is moving quickly. Don't get left behind!  If you're looking to run AI models that are customized to your business in an easy and cost-effective way, join our Private Beta Program. As a beta partner, you'll receive early access to our cutting-edge AI solutions that deliver unparalleled performance for AI inference.
---
New peer-reviewed paper, co-authored by Yoshua Bengio, Yann LeCunn, Jeff Hawkins and more, calls for more neuroscience research in AI
"To accelerate progress in AI and realize its vast potential, we must invest in fundamental research in NeuroAI", claims a new paper published in Nature Communications titled "Catalyzing next-generation Artificial Intelligence through NeuroAI."
This paper was a collaborative effort by many of the leading thinkers in AI and supports the neuroscience-based approach that Numenta brings to the AI products we're building.
---
Thank you for your continued interest in Numenta. Follow us on LinkedIn to make sure you don't miss any updates.
Christy Maver
VP of Marketing