In this edition, I'm excited to share product updates, new interviews with Jeff Hawkins and Subutai Ahmad, and upcoming events.
---
Build and Scale Powerful NLP Applications with Numenta's AI Platform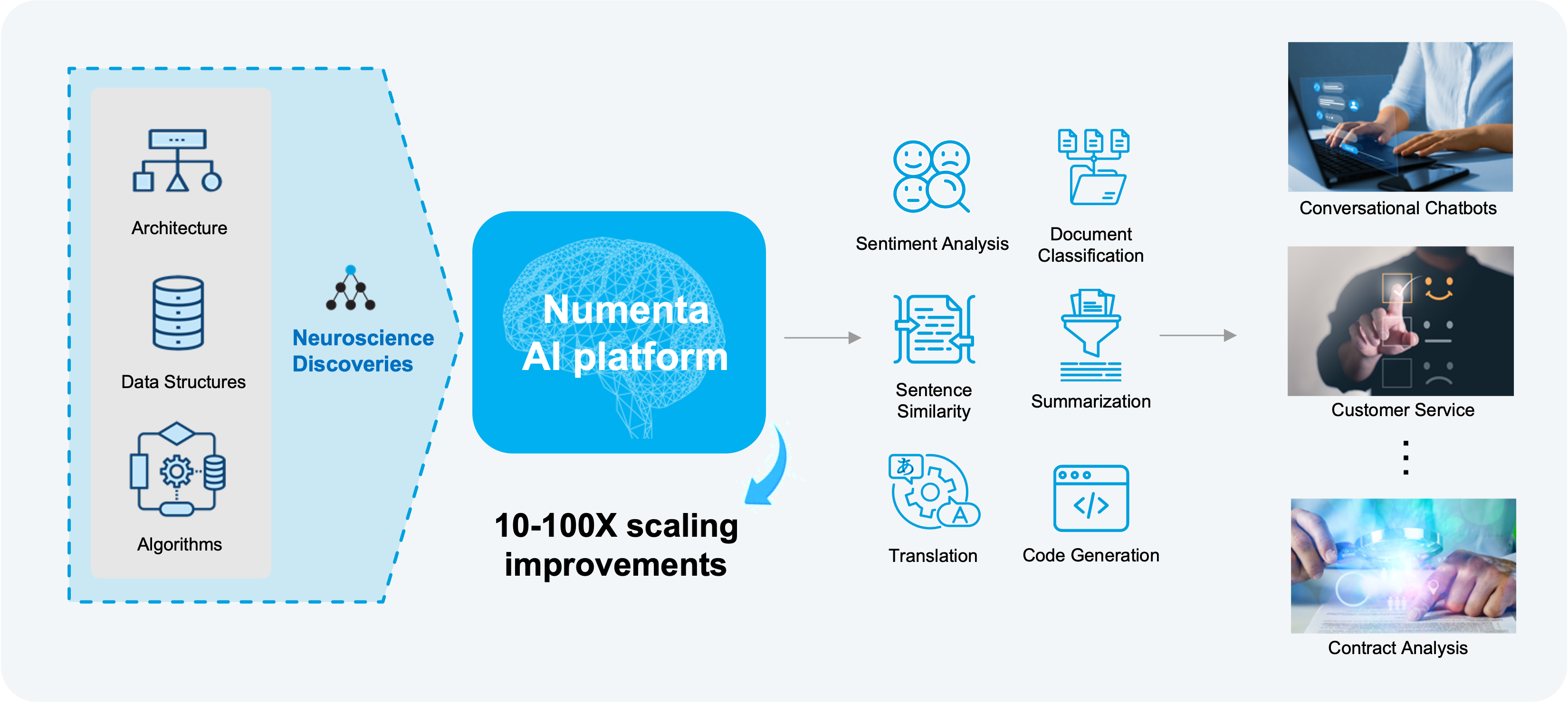 For the past several months, we've been talking to customers that struggle to leverage the benefits from Large Language Models, or LLMs. Despite their versatility, LLMs are often costly to deploy, hard to manage, and challenging to scale, not to mention the data privacy and security concerns they raise. Through our beta program, we've engaged with numerous enterprises that are using our AI platform to simplify and scale the deployment of LLMs.
Our platform brings higher throughput, lower latencies, and better accuracies than traditional AI solutions, and it operates entirely within a customer's infrastructure as a lightweight, containerized solution. This ensures models and data remain private and fully under customer control.
We have some exciting product announcements slated for the fall, but until then, you can read more about our solutions or request a demo.
---
Watch the Replay: Fireside Chat with Co-founder Jeff Hawkins and CEO Subutai Ahmad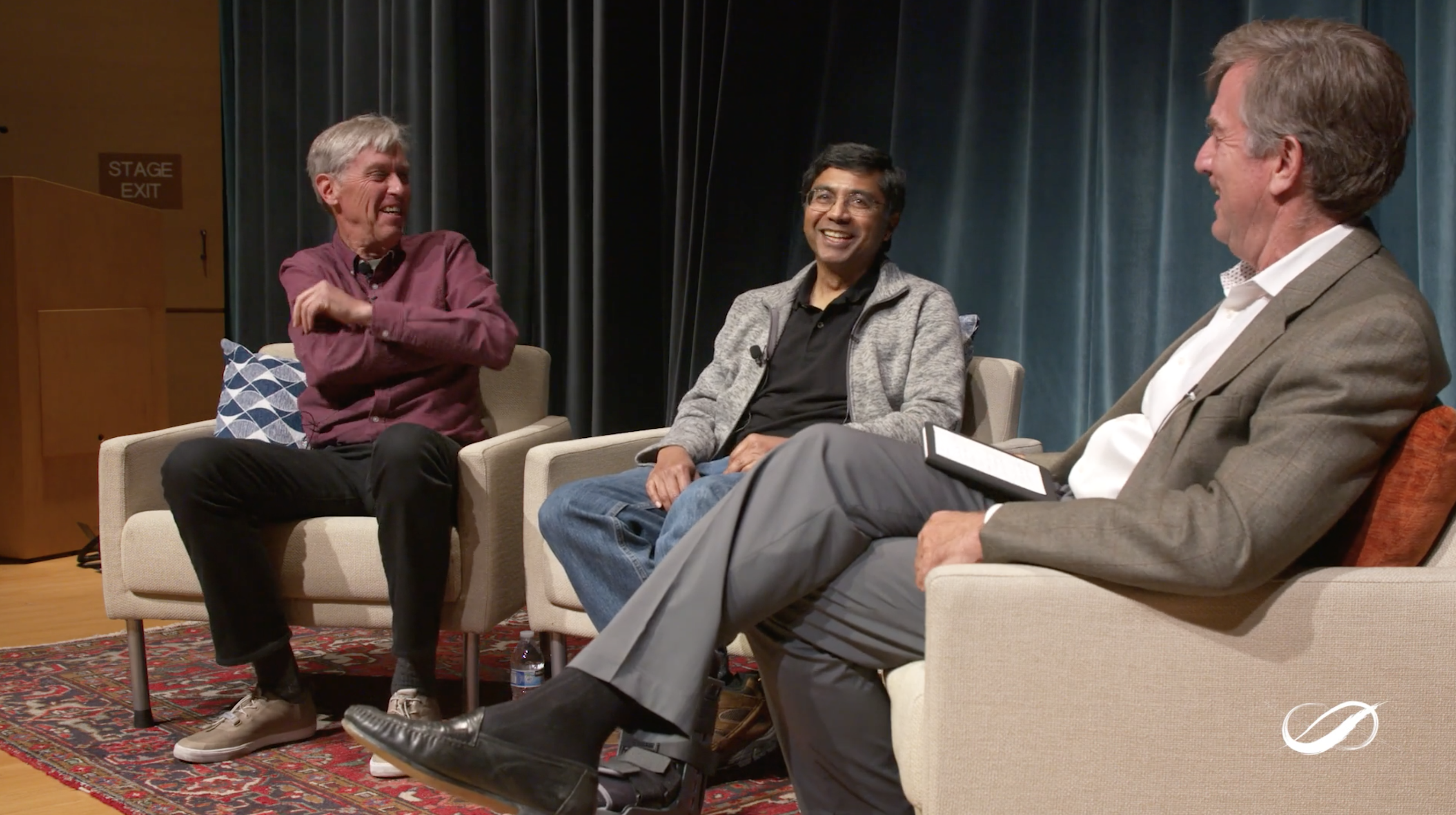 If you missed last month's fireside chat with our Co-founder Jeff Hawkins and CEO Subutai Ahmad on ChatGPT and Brain-Based AI, the full-length video is now available. Hosted by NosTerra Ventures (previously known as 4-Good Ventures) and moderated by their Co-Founder Dave Welch, Jeff answered questions about his book, A Thousand Brains, and Subutai talked about how Numenta is incorporating the ideas in the book today.
---
Numenta at Hot Chips and Efficient Generative AI
We've got some exciting events lined up this summer. Our VP of Machine Learning Lawrence Spracklen will give a talk titled, "Supercharged GPT inference on modern CPUs" at the Hot Chips conference at on August 29. On September 11, Subutai Ahmad will give the keynote presentation at the Efficient Generative AI Summit. We'll be adding more events, both in-person and virtual, so check our events page for the latest details.
---
Heads Talk Podcast: Neurotech 2023 Series
In January, Jeff Hawkins was the first guest of a limited podcast series devoted to neuroscience and technology called Heads Talk: Neurotech 2023. This month, Subutai Ahmad was the series' final guest, chatting with host Elaine Pringle Schwitter about the future of intelligent computing. Tune in to their conversation to hear about the relationship between neuroscience and AI, the state of deep learning today, and more.
Click the images below to listen to both episodes:
---
New On the Blog: Generative AI's Hidden Secret – How to Accelerate GPT-scale Models for AI Inference
In this blog post, Lawrence Spracklen explores why inference on generative AI models can be so expensive, and more importantly, how companies can navigate this challenge efficiently to leverage GPT-scale models and control costs.
---
Thank you for your continued interest in Numenta. Follow us on LinkedIn to make sure you don't miss any updates.
Christy Maver
VP of Marketing